Your competitors - Amazon, Best Buy, Target, Walmart - are bigger, with multi-million dollar budgets and marketing teams which could fill a stadium.
The advantage, of course, is the things they can't deliver: your personal touch, the quality of your products, your niche market, your brand personality.
But you need a strategy to get that first buy-in. It's impossible to deliver the personal touch, brand personality, or show the quality of your products if someone's never engaged with you.
And that's where a limited-time sale comes in.
This article will give you a step by step guide for how you can run a successful ecommerce sale from start to finish.
Running an Ecommerce Sale: Brainstorming
There's no limit to the number or type of seasonal sales your business can run - it's all down to your creativity and business type.
For retailers, my recommendation is to pay close attention to the gift-giving holidays: Christmas, Mother's, Day, Father's Day and Valentine's. It's often easier to motivate prospective customers to buy for someone else than to buy for themselves.
For ecommerce businesses in the fashion industry, seasonal sales are always good: "Shop our Fall Fashion Line" or "Summer is Coming! Get 25% Off until May 1st!"
Here are 20 sale ideas based around U.S. Holidays:
Groundhog Day Sale
Mardi Gras Festival
Valentine's Day Sale
St Patrick's Day Sale
Easter Sale
Earth Day Sale
Cinco De Mayo Sale
Mother's Day Sale
Memorial Day Sale
Father's Day Sale
Labor Day Sale
Back to School Sale
Halloween Sale
Veteran's Day Sale
Thanksgiving Day Sale
Black Friday Sale
Cyber Monday Sale
Christmas Day Sale
Post-Christmas Sale
New Year's Eve Sale
Depending on your target market and product, you can also tap into current events to drive sales. For example, here's an email I just received from custom-suit retailer Indochino, sent a couple days before the Super Bowl:
TO SUCCESSFULLY DELIVER YOUR SALE PROMISE, YOU MAY NEED A COUPON CODE…
To create a coupon or free shipping code in Shopify, click
here
.
To create a coupon in BigCommerce, click
here
.
To create a coupon in Magento, click
here
.
Running an Ecommerce Sale On Your Website
Whenever you run a sale on your website, you need a specific place to send people.
There's no point in sending specific traffic - people who have clicked on an ad, popup, social media post or blog article which has a specific selling point ("Get 25% off this Valentine's Day!") - to your homepage.
Don't get me wrong, homepages are great. They offer your visitors a single place from which to find whatever it is they want.
But they also give options to
not
convert.
First Step: A Sale-Specific Landing Page
A dedicated
sale landing page
focuses your visitor's attention on your sale. They don't have the option to click to your product directory, go to your homepage or anything else.
This landing page gives people early-access to a Valentine's day sale and builds your list. The post, ad or blog link might read "Get Early Access to HC&Co's Valentine's Day Deals!"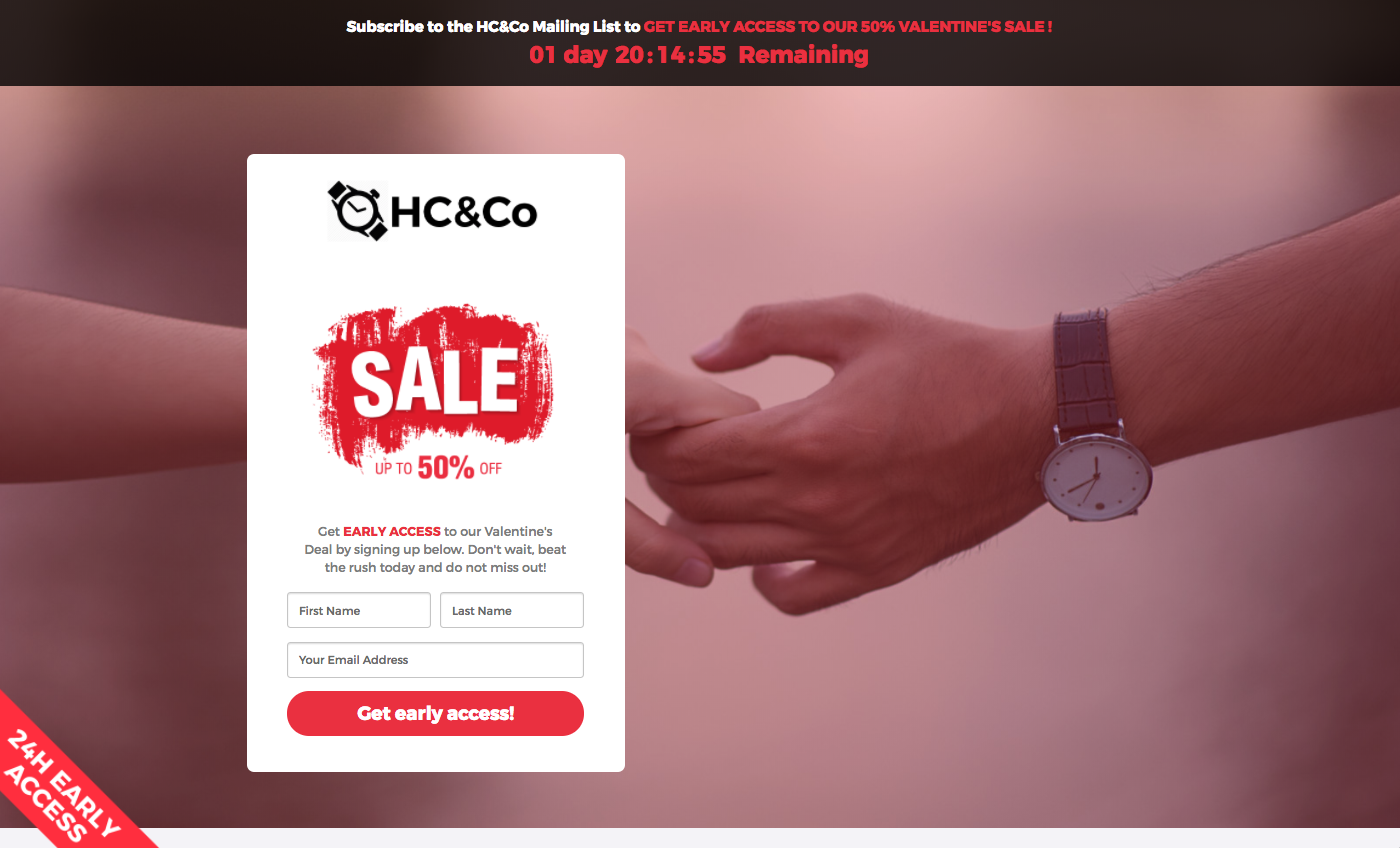 So this is the first step - giving early access on a dedicated, conversion-focused landing page. To build one just like this
signup for Wishpond, free.
Second Step: A Sale-Specific Product Directory
Once you've created your coupon codes and driven a few early-access people to your mailing list, it's time to launch your sale.
As with any good online promotion, you need a page dedicated to this sale.
In this case, a sale-specific product directory. Something like this: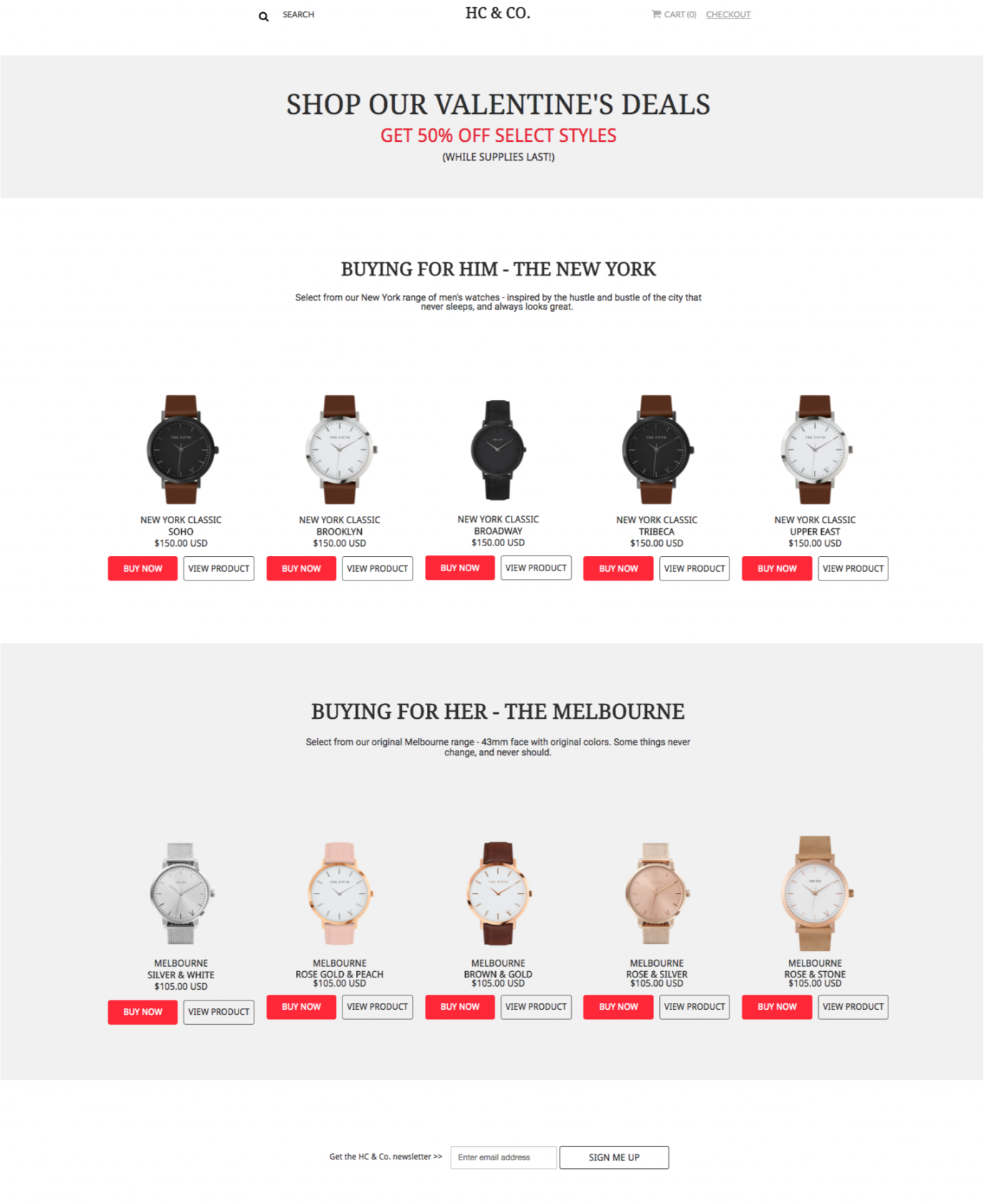 Check out the page I created with Wishpond's website-building tool
Okay, so we have our sale. Now we just need to make people aware of it…
Promoting your Ecommerce Sale on your Website
For most ecommerce businesses, traffic is driven from online advertising. And that's important.
But many businesses miss a huge opportunity for driving awareness and prospective customers toward their campaigns:
existing web traffic.
Your website's visitors, wherever they come from, are clearly interested in your products.
But, in general, 95-98% of them are going to leave without doing anything.
Making them immediately aware of your ecommerce sale, however, improves the chance of them buying something there and then.
But there are a few elements you'll need to add to your website:
First, a temporary homepage header: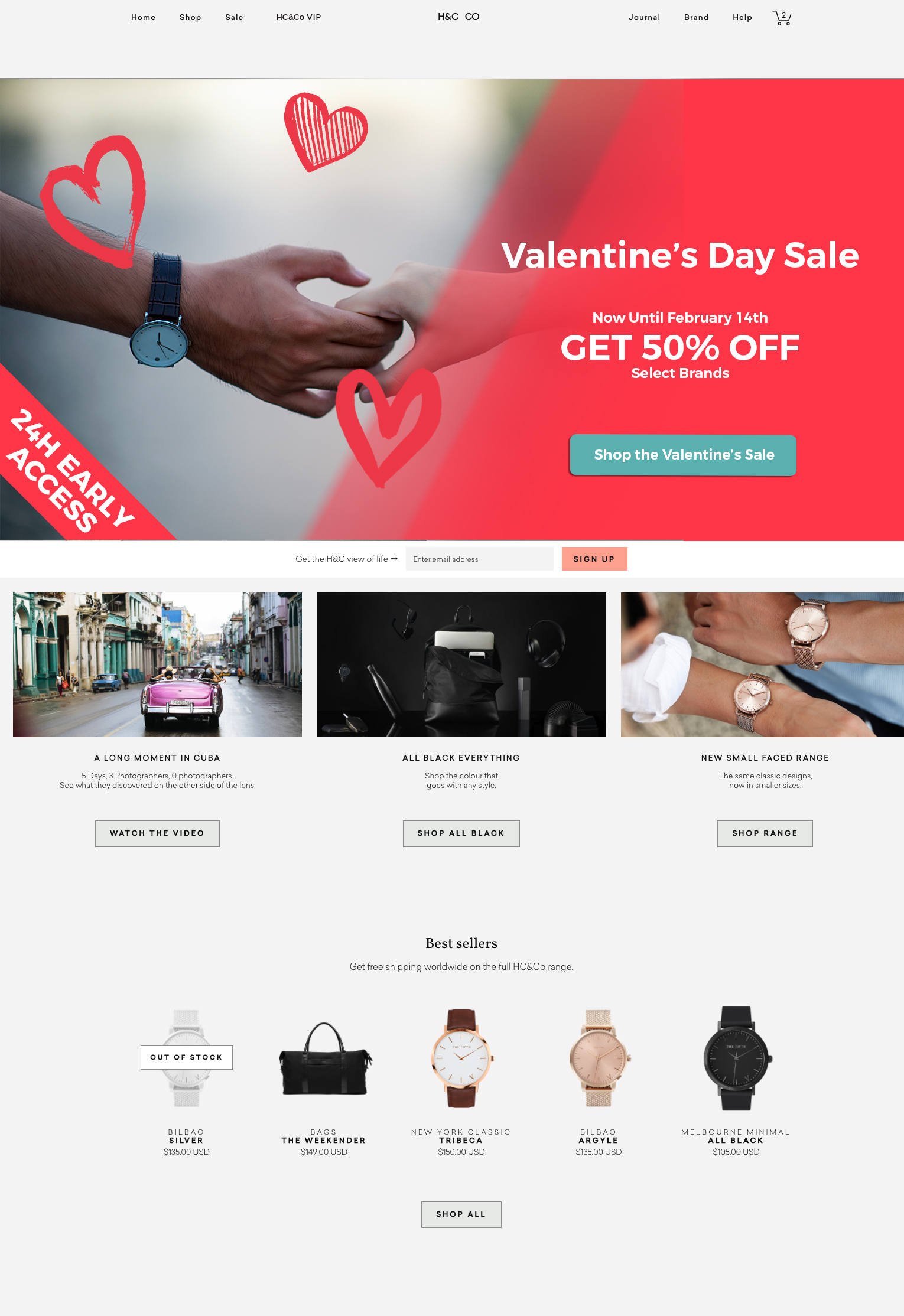 Next, a welcome mat: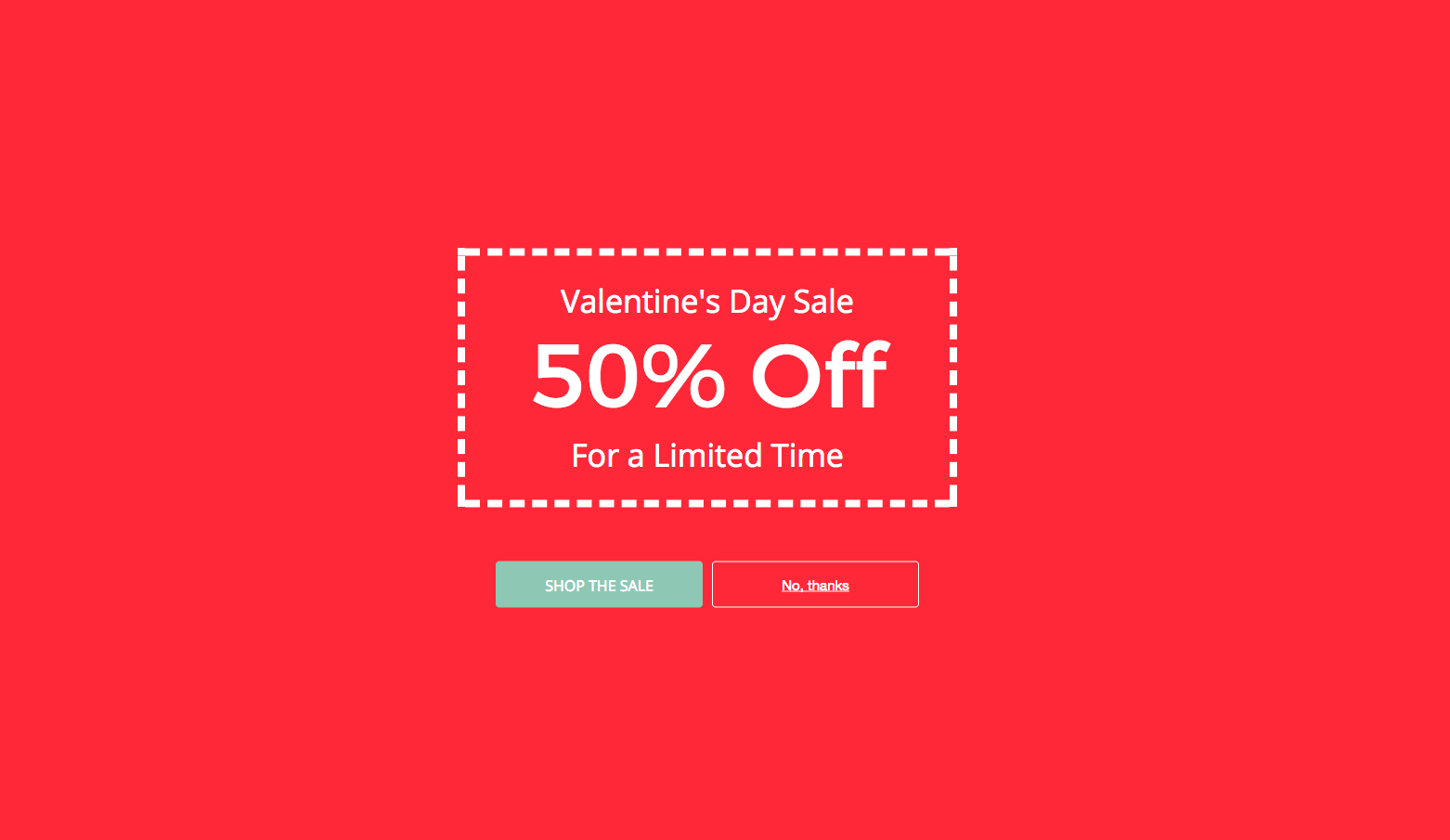 And finally, a sidebar scroll CTA: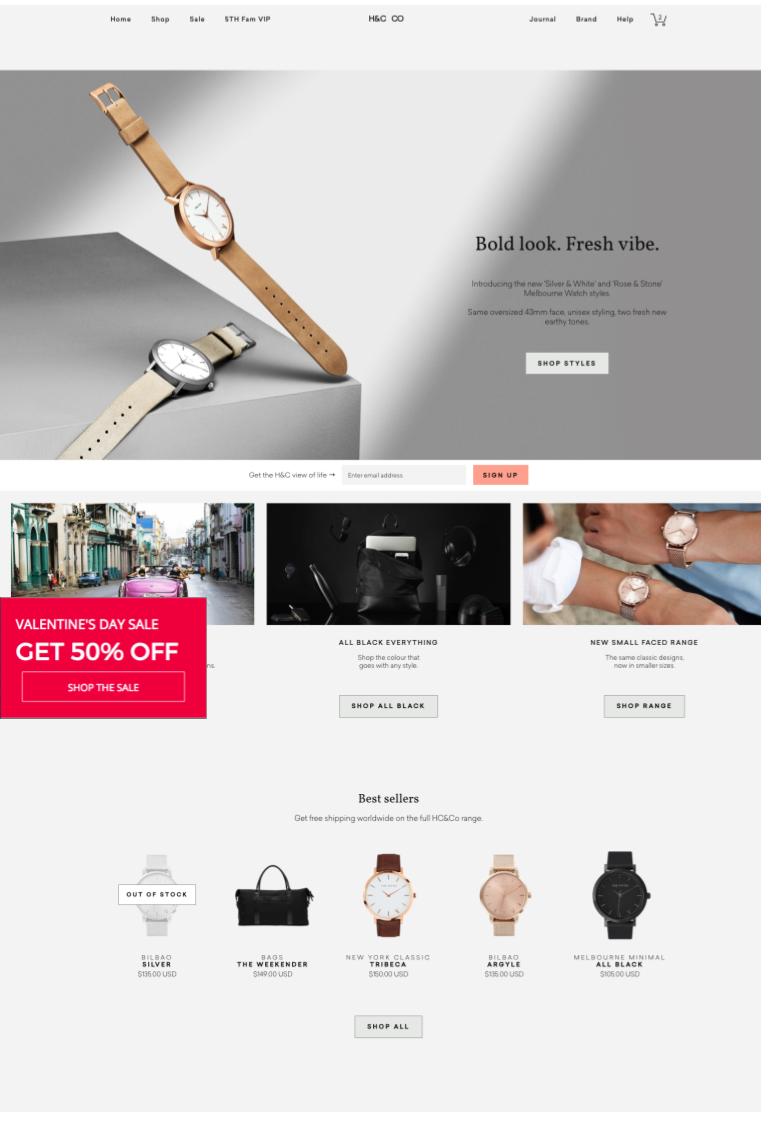 All of these promotion tools were made with Wishpond's website optimization tools. Check out our

popups,

welcome mats,

sidebar CTAs.
Promoting your Seasonal Sale: With Facebook Ads
Objectives
For your first Facebook Ad, just choose "Traffic" as your campaign objective. You can
add a Facebook pixel
(in order to track conversions) to your website down the line: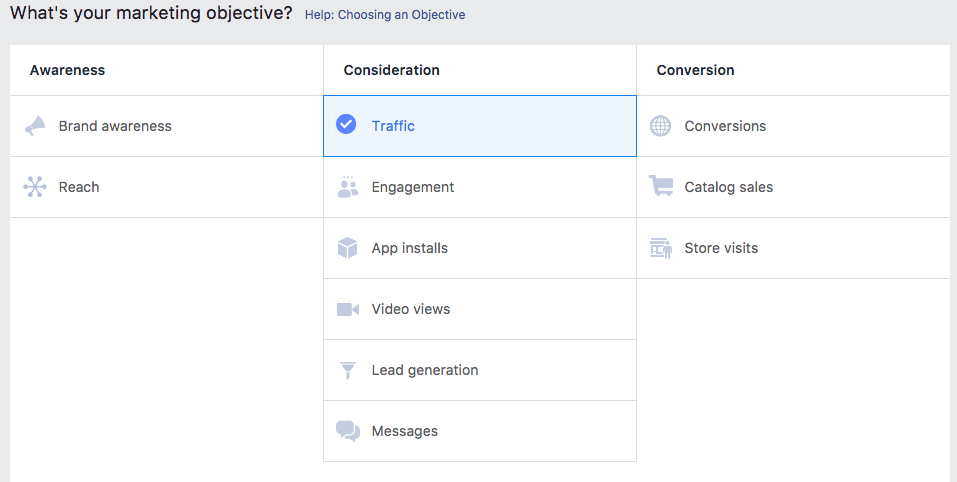 Notice I've only targeted men with this ad set. This is because I'll get better conversion rates targeting boyfriends and husbands with messaging and images specific to them than I would with generic targeting and generic messaging.
Targeting
Next, choose the demographic details of your target audience for this ad campaign. If you only ship within the continental US, be sure you've only targeted the continental US with your ad.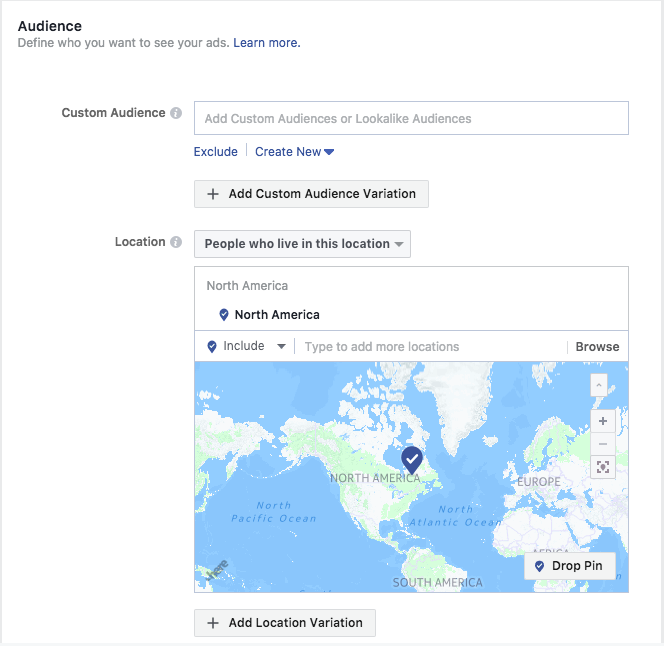 Once you have the demographic details down, move on to advanced targeting: a Facebook user's interests, workplace, income etc. For this ad (for Valentine's Day) I only want to target people in a relationship: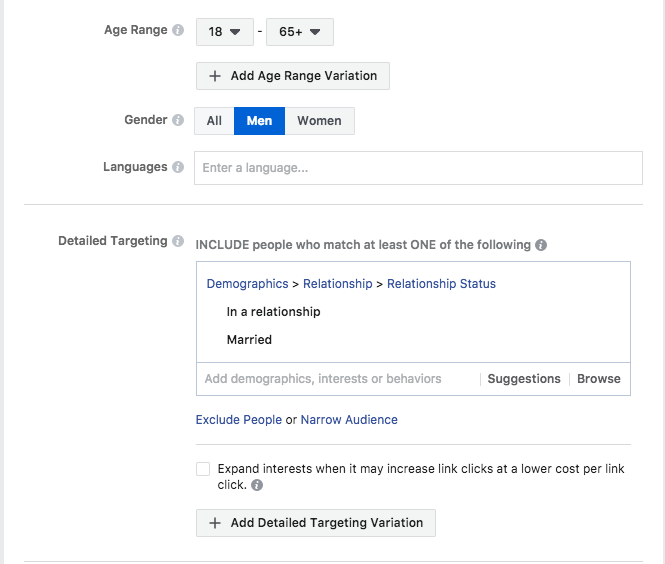 This gives me a large ad audience, so I might focus in even more by targeting people who have bought from a Facebook ad before, or people who are interested in fashion.
My recommendation for a Facebook ad audience size is between 50,000 and 500,000: small enough that the people who click will be genuinely interested in what you're selling, and large enough that a small percentage of viewers will still be a significant number.
Creative
Next, create your ad image and write the copy that will tantalize and entice people to your ecommerce sale.
Here's the ad which I'll try first: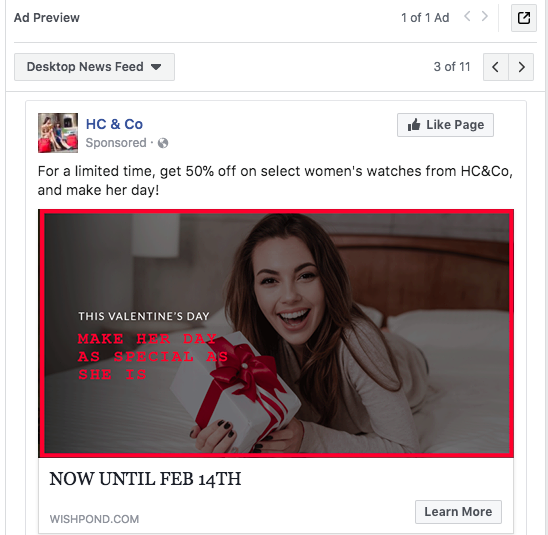 I would also test this image, to see if people respond better to it than the original: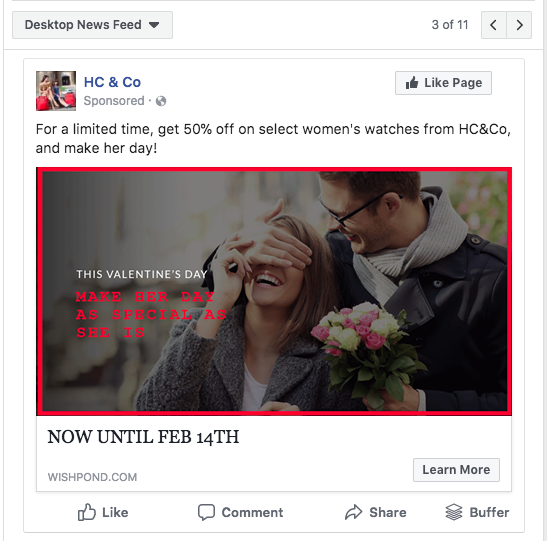 Budgeting
For this first campaign, set an ad budget of $20 or $30 per day, but know that you'll only pay when people click on your ad.
Tracking your Facebook Ad ROI
Want help tracking your Facebook Ad ROI? The easiest way is to
book a time to talk to a Wishpond ad professional
who can walk you through it, as it often changes based on what ecommerce website platform you use and what your conversion goals are.
Final Thoughts
Hopefully this article has given you a better understanding of how to run a successful ecommerce sale.
Remember that it's not just about creating the discount code or setting up the ad.
It's about the whole funnel.